Cinderella Movie Review
by Heidi Joelle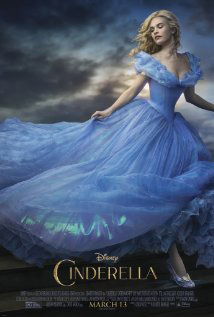 A pleasant surprise, this year's retelling of Cinderella is a straight-forward remake of the classic tale.

Ella, Cinderella's real name, is born into a loving family and has a happy childhood with her mother and father until her mother passes away. Before dying, her mother encourages Ella to "be kind and have courage." These last words of her mother form the lens through which Ella views her life.

After she is grown up, Ella's father remarries and in enters the wicked stepmother and two stepsisters. This is where the movie takes the opportunity to expand on the original tale. We learn that the stepmother hates Ella because she is a daily reminder that her new husband didn't love her like he loved Ella's mother, and that the stepmother's first husband is gone.

The movie is beautiful in its atmosphere, the colorful dresses, and the staging of this fairy tale world, but what I was most impressed with was the innocence. Ella meets the prince while in the woods, does not know who he is, and he does not tell her. This meeting is one of the most adorable first meetings of a lead couple I have seen in film in a long time. Their relationship, while still set in a fairy tale world, is one of kindness and innocence. I found it incredibly refreshing. They are two young people choosing to see the good in the world.

The story gives nod to the colors and styling of the original 1950 movie and gives character to the mice and animals without having them talk. Helena Bonham Carter is entertaining without being overwhelming as Ella's Fairy Godmother.

There is no profanity, no violence, and virtually no sexual content. Some of the gowns Ella and her stepsisters wear are low cut. For very young audiences, there are a few scenes that might be seen as scary, such as when Ella's carriage turns back into a pumpkin, but the movie does not dwell on those scenes.

Viewers of Cinderella will be taught the importance of kindness, courage, and forgiveness.


Heidi Joelle is professional minion by day and a writer, editor, and reader by night. She can be coaxed from the house by the sound of a good adventure or the opportunity of traveling somewhere new. Her Saint Bernard, Smokey, and problem-solving cat, Diamond, bring extra joy to daily life.
---
---
comments powered by