Hope for the Weary Mom Book Review
by Sarah Winters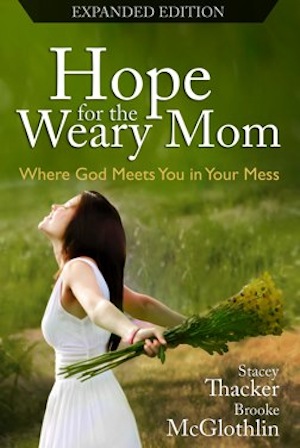 Recently, my two-year old son slept badly, woke up grouchy, wouldn't eat his breakfast, screamed for two hours because I didn't have chocolate cookies in the house, and hit his sister. My four-year-old suffered through her brother's tantrums, all the while asking me random questions, whining for no reason, and making absolutely certain all 4 million pieces of little Legos residing in our house found their way to every crevice of the living room.
Following through with punishments, making sure my 4-year-old had something to eat and wear, finding lost toys, catching spare moments to pay a few bills, changing the laundry because my husband does not have clean socks for work, figuring out what schoolwork needed to be completed, and, oh yeah, finding time to actually get myself dressed and use the bathroom—it all makes me exhausted … weary beyond what I thought possible. And all this was just because it was a Tuesday. Days where my kids scream and throw tantrums and where I have to do the hundred other daily chores to keep the house running make me wonder if I'm really cut out to be a mother and stay-at-home mom. Most days, I feel defeated and hopeless, like the daily mess is never ending.
But for every hard day, there are the moments that make every grey hair and tear worth it: my son walking by me and smiling; my daughter forgetting what she meant to tell me and, instead, saying she loves me in her heart forever; both of them screaming with excitement because they heard their daddy's car door close signaling he is home from work. Each day is a battle of focus, concentrating on the moments that make me smile. The key is remembering to have hope and that we are not alone in our craziness, that we can find refuge and encouragement even in our lowest moments. I think that's what I like most about the book, Hope for the Weary Mom: Where God Meets You In Your Mess. It's a book about the truth of what real moms feel day in and day out and the victory we can find when we let God into every part of our heart and life.
I downloaded Hope for the Weary Mom: Where God Meets You In Your Mess by Stacey Thacker and Brooke McGlothlin, because, let's be honest, it was free. It also appealed to me because the word "weary" really struck home. Weary, by definition, means being tired; but for me, it was a tiredness of the soul. The authors of this book are two moms that are honest about their strengths and, more importantly, their weaknesses. I have tried to read self-help books or books designed to encourage and uplift, but often those books are written by someone who's not currently going through what you are; or, they're filled with words that seem to give hope but are only touching the surface of what's going on. This book is different.
To begin with, in the introduction, both authors use real examples of what it means to be in their shoes. They're honest about the number of dishes piling up in their sinks and about the fact that some days they just want to give up. These examples of their daily lives helped me relate to the authors and understand that they do "get it." The whole book is raw and honest. I found myself constantly saying, "I've done that," or "Wow, never thought to look at it that way."
The book also highlights the fact that we're not alone in our struggles and that we need a community of fellow moms to talk to and, more importantly, pray for one another. Sometimes, when we focus so much on our kids, it's easy to get lost in daily chores. But we need to take a break and pray and fellowship in order to feel fulfilled—not just as moms, but as women. As Stacy Thacker states, "Friends don't complete us. Friends compliment us. Only God can fill your heart with hope. True friends will point you to Him."
The book is very easy to read. Each chapter is long enough to explain and touch on each subject, but short enough that it's not a huge time commitment. In the past, I would feel guilty when I only could get through half a chapter of a book or study before having to start my day with the kids. Not so with this book! It's one you can pick up over and over again throughout the day.
Authors Stacey and Brooke have also included helpful resources at the end of the book. There are inspirational verses to help focus thoughts on God and what really matters, website links to different organizations for community support, and also what I love most: a Weary Mom Manifesto. It's a short statement that really summarizes motherhood. It's a commitment to be real, to not give up, and to lay everything before God's feet. I love to read it over and over. Reading the Weary Mom Manifesto is like stating a pledge to try my hardest at that very moment. Take that day in stride and do the very best I can to be a godly example to my children.
Ultimately, Hope for the Weary Mom: Where God Meets You In Your Mess focuses on the fact that, plain and simple, we need Jesus—and without Him nothing is going to work. Everything in our lives comes down to that fact. And it's as simple or complex as we make it. As a mom, daughter, and wife, it's easy to get bogged down by the fallen world that makes motherhood so wearying. But coming back to the heart of Jesus focuses our attention on what really matters and gives us hope through the mess.
---
Sarah is a wife, mother, and freelance writer. After spending a few years in the education field, she became a stay-at-home mom and now she spends her days trying to keep up with her two crazy, fun, smart, energetic kids. Every spare moment she dedicates to reading and writing, two of her greatest passions.
---
---
comments powered by