Five Nights at Freddy's Game Review
by Kersley Fitzgerald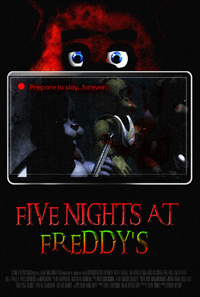 Maybe a month ago Dev and I were putting JT (13) to bed. He's always been somewhat sensitive to scary and intense movies, and we're fine with the fact that he still uses a nightlight of sorts. But this night, he just didn't want to be left alone. Finally we asked:

"Okay, what movie or X-Box game did you play?"

He said, "What? Nothing. Oh, my friends at school let me watch them play Five Nights at Freddy's. It's really cool..."

He then went on to describe this game that was "so cool" because it was so scary he wouldn't even play it himself, even though he watched his friends from over their shoulders.

Wikipedia describes Five Nights at Freddy's as a "point-and-click survival horror video game." The player is a security guard at a pizza parlor who must fight off malfunctioning animatronic animals (think Disney's Country Bear Jamboree). The game was released on August 8, 2014, and was a top-selling game within two weeks. A sequel came out on November 11.

The backstory is that several years ago, a pizza parlor (similar to Chuck E. Cheese) was the scene of the disappearance of five children. Soon after, four animatronic animals started to smell, and blood stains appeared around their eyes. The animatronics have free rein of the restaurant during the night so their mechanical parts don't lock up, but if they happen upon a human, they assume he's out of costume and will stuff him in a spare, thereby killing him.

The game consists of five levels (or nights) lasting six hours (between 4 and 9 minutes screen time depending on the device). The player is sequestered in the guard office and must use a limited amount of electricity to power cameras, lights, and automatic doors. The camera screens are snowy and hard to make out; one room has only audio. Some of the areas of the restaurant, including the hallways leading to the guard room, do not have cameras. If a character is near the guard room, you can only tell by flashing a light out the doorways. You can't actually see the characters move, but see they've changed position when you go to different rooms — a method called "jump scare."

The player toggles between cameras in eleven rooms and the guard office to keep track of the four characters (a bear, a bunny, a chicken, and a fox). There is not enough power to keep the doors to the guard room closed. Toggling between rooms activates the dim lights in the rooms and eats power. When audio is working, the characters play that creepy, tinny music characteristic of animatronics and merry-go-rounds everywhere.

The darkness and suspense of Five Nights at Freddy's — as well as the inability of the player to leave the room — make it one of the scariest games of 2014. And extremely popular. Several of JT's middle-school classmates play it.

Which I don't get. Adults who like horror games are saying it's scary.

Should your child play Five Nights at Freddy's? Probably not. They'd have to be pretty jaded by the horror genre in general to come away unscathed. I'd think it would be particularly bad for kids who sleep in a dim room with stuffed animals. But be aware that even if you don't allow them to download the game to their devices, they may still watch or play it on their friends' devices.
Kersley Fitzgerald is a former Air Force officer, former Air Force wife, and current editor of Got Questions' blog site, Blogos.org. She and her husband adopted JT from Thailand when he was 18 months old. He has spent the ensuing years teaching her more about God than any theology course could.
---
---
comments powered by