Muppets Most Wanted Movie Review
by Rebekah Largent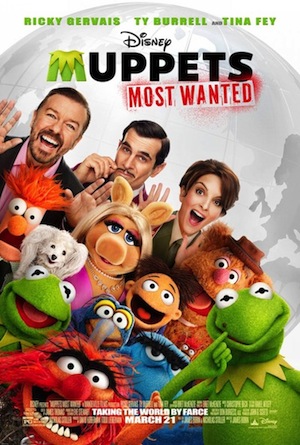 I've always loved the various Muppet movies that came out as I was growing up, including The Muppet Christmas Carol, Muppets Take Manhattan, Muppet Treasure Island, and more. So when Muppets Most Wanted came out in theaters on March 21, I jumped at the chance to see it—despite the fact that I'm an adult.
Not having seen the 2011 Muppet movie, The Muppets, I wasn't sure what to expect. The very beginning of Muppets Most Wanted may be a little confusing for those who haven't seen the last movie since the story picks up exactly where The Muppets left off. My confusion was short-lived, though, and I soon became wrapped up in the fun, silly antics of those lovable furry friends.
Kermit and his friends (all the usual suspects: Miss Piggy, Gonzo, Fozzie, Rowlf, etc.) are eager to create a sequel to their previous movie and are trying to figure out a good theme. Out of nowhere, a man named Dominic Badguy (Ricky Gervais) appears and suggests the Muppets take their show on an international tour. Meanwhile, we see Constantine, "the world's most dangerous frog" (who incidentally looks exactly like Kermit aside from a large mole on his face), escape from prison in Siberia.
The audience isn't fooled by Dominic's seemingly helpful act, so it comes as no surprise to find out that he is in league with Constantine and plans to help the world's most dangerous frog steal England's crown jewels. After Constantine slaps a mole onto Kermit's face, Kermit is arrested and taken to the Siberian prison while Constantine settles himself in to impersonate Kermit.
Hilarity ensues as we follow the Muppets' journey around Europe, Kermit's struggles in the Siberian prison (where he must help the head guard, played by Tina Fey, put on a musical review), and Constantine's diabolical plans to pull off a daring heist. As the movie goes on, we learn about the importance of friendship and that it's not always good for us to get everything we want. The Muppets' loyalty to Kermit is touching, even considering the ease at which Constantine fools them into thinking he's their old friend.
Although I felt the movie was a bit on the long side, the movie held the attention of even the three-year-old girl sitting in front of me. And since there isn't any objectionable content—aside from a couple mild butt and poop jokes—I would recommend the film for all ages. Kids will enjoy watching the slapstick silliness of the Muppets and their human counterparts, while adults will appreciate the many celebrity cameos that occur throughout the film.
---
Rebekah Largent is a mom, a wife, and a writer/editor. After many years in the children's curriculum industry, she switched over to Internet ministry at Got Questions Ministries as a writer and editor. In addition to editing and writing articles for GotQuestions.org, she also manages the GQKidz.org website.
---
---
comments powered by