Saving Mr. Banks Movie Review
by Bethany Pegors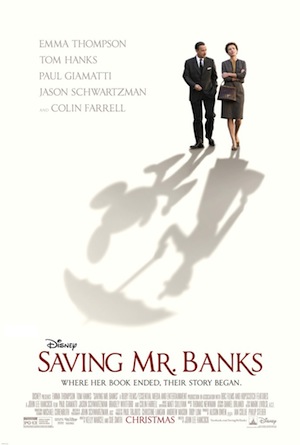 Saving Mr. Banks is a whirlwind of emotions for the viewer. The movie, which details the true story of how the 1964 Disney film Mary Poppins was made, takes place in two settings. The first in 1906 when the author, Pamela Travers (Emma Thompson), is a young girl, and the second in 1961, when Walt Disney (Tom Hanks) attempts for the 20th year in a row to obtain the rights to Travers' characters and story. The film moves back and forth between Travers' childhood and her "present day" (1961) in order to give the viewer a glimpse into Travers' motivations.
As the movie goes on, we see that Travers (whose real name was Helen Goff) is extremely hesitant to give up the rights to her characters and story; not only because they were her work, but also because she regarded the characters as family. We later learn that Mary Poppins was the nanny Travers never had, but wanted—the nanny who could fix problems in the children's lives. Travers was not a stranger to difficulty. Her alcoholic father passed away when she was very young, and while the cause of his death is not specifically mentioned, it is clear that he died from either consumption or liver failure. While he was sick, Travers' mother almost commits suicide—only coming to her senses when her daughter chases after her and tells her to come home.
In Travers' later years, she is shown to be a reclusive woman who does not have many friends; once, Travers' publicist refers to himself as her friend, and she is shocked. At this point, because she has almost run out of money, Travers gives in to Disney's cajoling and reluctantly agrees to pursue the possibility of selling the rights to her book. She travels from England to the United States to meet and speak with Walt Disney. But because she wants him to give up the idea of making a movie based on her book, she becomes as difficult and as demanding as she can.
Saving Mr. Banks recounts the story of the origins of Mary Poppins in a heartwarming, emotional way, and the viewer comes to love Travers' quirks and demands because her reasons for being so are finally understood. The acting is phenomenal (Emma Thompson won a Golden Globe for her role) and the characters are loveable and relatable.
While Saving Mr. Banks is touching, it is not a film for children. The movie was given a PG-13 rating because of its adult themes: alcoholism, depression, and some language. The official genre for the movie is drama, and I believe this accurately describes the film's intent. While parts of it are very fun and amusing, the background story of Travers' life is heartbreaking and difficult.
Overall, the PG-13 rating is an accurate one for this movie. Although there are only a few swear words and no sexual content, the adult themes cause me not to recommend this movie for children under 13 years of age. Despite the fact that Saving Mr. Banks is a Disney movie, it is intended for adults (particularly those who have fond memories of Mary Poppins) and not for kids.
---
Bethany Pegors is a wife, blogger, barista, and photographer. She graduated with a Biblical Studies degree from Moody Bible Institute in 2011, and enjoys writing about life and theology. In her free time, she enjoys watching movies, playing sports, disc golfing, and photographing everything in sight.
---
---
comments powered by