Wonder by R.J. Palacio
Reviewed by Rebekah Largent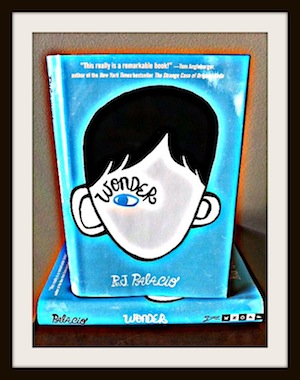 Wonder is a best-selling book targeted at kids 9 and up. The story is a very honest look into the life of fictional character August Pullman, a child who has had a severe facial deformity since birth.
As we read, we quickly learn that ten-year-old August—nicknamed Auggie—has struggled with health issues related to his deformity, as well as the rejection and aversion of others. Auggie is just a few weeks away from entering the fifth grade and, although he had been homeschooled all his life to protect him from the unkindness of other kids (as well as to accommodate many hospital visits and doctor appointments), Auggie's mom is trying to convince him that it's time to go to public school.
Naturally, Auggie is very hesitant about this idea. While he has generally accepted his appearance, he still struggles with people's reactions to his face. But eventually, he decides to attend school. Auggie's year at Beecher Prep, with its challenges, triumphs, and ups and downs, is the main focus of Wonder.
While Wonder is not a book written with Christian values in mind (see more about that below), children can certainly glean many positive things from the story. The look into the life of a child who is "different" is invaluable—readers have a rare opportunity to see that children with disabilities or differences are, in fact, just like them in many ways. They see the impact kindness can have in the lives of others.
Kids may find Wonder a bit difficult to follow at times, since the book shifts perspectives between several characters. However, the shifting allows the reader to see not only Auggie's role in the larger story, but the roles of his family and friends as well.
As with any book, I would advise you to review it yourself before you give it to your child so you're aware of what she's reading. In addition, it will be beneficial to talk through the book while your child is reading it or soon after she finishes. Your child may be mature enough to handle some of the "bad," but it's important to walk her through the different ideas and morals presented in the story. Here's a cheat-sheet for you to use as you talk with your child:
The Good
•Kindness and inclusiveness are emphasized as very important life skills
•Readers have the opportunity to look at different perspectives from ones they're used to, which can help them understand why people act the way they do
•Auggie's family is very loving and close-knit
•There are many humorous and light-hearted points to balance out the tough spots
•Friendship and loyalty are strong themes
•Violence is low, and restricted to a couple fistfights between kids
•In the end, good wins out and a whole school acknowledges Auggie's impact
The Bad
•God's name is taken in vain about ten times
•There are many instances when the characters tell lies and cheat, and their actions are presented as normal and "okay"
•There are references to cursing (although the words are never revealed), cheating, smoking, and a vague mention of an adult affair
•Incorrect ideas of God and heaven are presented
---
Rebekah Largent is a mom, a wife, and a writer/editor. After many years in the children's curriculum industry, she switched over to Internet ministry at Got Questions Ministries as a writer and editor. In addition to editing and writing articles for GotQuestions.org, she also manages the GQKidz.org website.
---
---
comments powered by