The Jesus Storybook Bible Book Review
by Rebekah Largent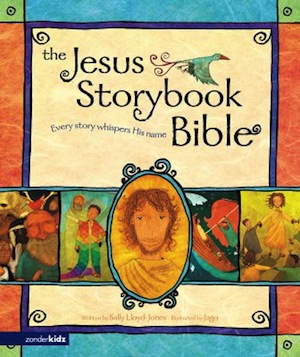 I've been familiar with The Jesus Storybook Bible ever since it was first published in 2007, but I'd never read it all the way through until quite recently. In spite of the fact that I'm not part of the target audience (elementary-aged kids) I was very blessed by this book!
The Jesus Storybook Bible, written by Sally Lloyd-Jones, is not a Bible translation but a paraphrased overview of the Bible written in story form. While many children's Bibles present each story as separate and sometimes unrelated accounts, Sally Lloyd-Jones shows that every story is connected by one character—Jesus Christ (hence the book's subtitle: Every Story Whispers His Name). There's not one chapter in this book that's missing a presentation of humanity's need for redemption and God's plan to bring His children back to Himself.
While there are certainly many biblical accounts that do not appear in this book, the author includes all the major stories in an age-appropriate manner. The narrative has some humorous language that will appeal to young kids, and is whimsically illustrated throughout with artwork by Jago. Tough and potentially frightening concepts (such as the flood and Jesus' crucifixion) are presented gently, but they're not sugarcoated. And in these difficult aspects the author continually emphasizes God's "Never Stopping, Never Giving Up, Unbreaking, Always and Forever Love."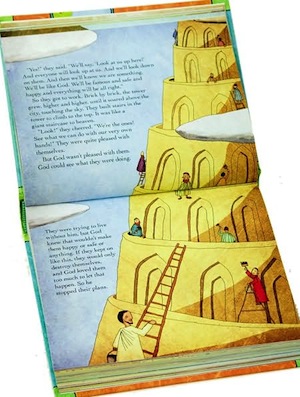 Since The Jesus Storybook Bible is not the inspired Word of God, there are some imperfections, including minor theological issues. In order to create a seamless children's story, the author sometimes develops conversations previously recorded in the Bible or even adds some of her own. I generally have no problem with this if the theology is sound—however, there are a few points where theology is slightly compromised for the sake of the story.
For instance, in the garden of Eden, the snake asks Eve, "Does God really love you?" This question is not only unbiblical, it also detracts from the true draw of Satan's temptation, which was the opportunity for Adam and Eve to be like God. The theme of questioning God's love pops up throughout the book and sometimes seems to paint a picture of humanity as mere children without proper understanding rather than people whose hearts are "deceitful … and beyond cure" (Jeremiah 17:9). Although I don't believe that was the author's intention, it's a point parents may need to clarify with their kids. It's important to note, however, that key theology pertaining to salvation—God's deity, man's sin, and Jesus' death and resurrection for the forgiveness of sin—is sound.
In addition to the theological concerns, the book doesn't quite balance God's love and mercy with His righteous wrath and justice. Even though a children's book is better-served emphasizing God's gracious and merciful nature, it could have used a touch more information on God's other aspects so kids can get a fuller picture of who He is.
In spite of these flaws, I think The Jesus Storybook Bible is an excellent resource. The overarching story of God's great love for His creation is one that's often left out of adult studies and biblical overviews, but should be included more often. After all, all the stories in the Bible do whisper Jesus' name as they point to the coming (or past) redemption for sin through Him. The Jesus Storybook Bible is an amazing, touching, and tear-inducing reminder of God's fierce love for His greatest creation—us. For that reason alone I would recommend this book to not only kids and parents, but also any other teen or adult.
Scriptures taken from The Holy Bible, New International Version®. NIV®. Copyright © 1973, 1978, 1984 by Biblica, Inc.™ Used by permission of Zondervan. All rights reserved worldwide. (www.zondervan.com). The "NIV" and "New International Version" are trademarks registered in the United States Patent and Trademark Office by Biblica, Inc.™ All rights reserved.
---
Rebekah Largent is a mom, a wife, and a writer/editor. After many years in the children's curriculum industry, she switched over to Internet ministry at Got Questions Ministries as a writer and editor. In addition to editing and writing articles for GotQuestions.org, she also manages the GQKidz.org website.
---
---
comments powered by