City of Bones Book Review
by Jill Barnhart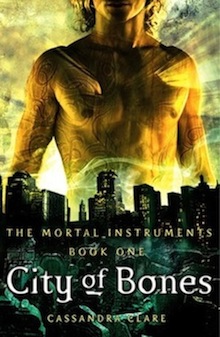 "For our struggle is not against flesh and blood, but against the rulers, against the authorities, against the powers of this dark world and against the spiritual forces of evil in heavenly realms" (Ephesians 6:12).
The Bible tells us unequivocally that every day there is a war being waged all around us—one that is invisible but that is of the utmost importance. One of the most common interpretations of Ephesians 6:12 is that the "spiritual forces" it references are demons—angels who were ejected from heaven for their sin and now do Satan's bidding in bringing all manner of evil against the people of the world, as well as bringing them temptation to commit sin. From this and other Bible passages it becomes clear that demons are the enemies of all humans, and particularly of those who believe in Christ.
One of the biggest mistakes a person who is engaged in battle can make is to underestimate his or her enemy. To that end, Satan and his demons are continually working to ensure that people underestimate Satan's power or simply dismiss him and his demons as part of a fairy tale. Much of it is done in subtle ways that may seem harmless at first, such as in books or movies. The Mortal Instruments is a series of young adult books written by Cassandra Clare that puts both angels and demons in the category of fictional characters. The series currently consists of five books, with a sixth to be released in March of 2014. This review will focus mainly on the first book in the series, City of Bones.
Clary Fray is, to all appearances, a normal teenager. She lives with her mother Jocelyn in an apartment in New York, her father having died before she was born. Clary is almost 16 years old at the beginning of the book, and she and her mother are frequently involved in arguments over the amount of independence Clary should have.
Clary and her best friend Simon are inseparable. The book begins with the two of them entering an all ages club. Clary notices an attractive, blue-haired boy in line, and tries to keep track of him once inside the club. While dancing with Simon, she sees another girl approach the boy and lead him out of the building. Clary then notices two other boys following the couple out, and as they leave she sees that one of them is carrying a knife. Concerned for the blue-haired boy's safety, she tells Simon what she witnessed and tells him to go get one of the club's bouncers. In the meantime she follows the group outside the club, thinking to try to talk them out of whatever violence they intend.
When she catches up with them, the group of teenagers is for some reason surprised that she can see them, calling her a "mundane." Clary then sees one of the boys, Jace, kill the blue-haired boy. He explains that the blue-haired boy was actually a demon. She doesn't believe him, but then Simon shows up with the bouncer and sees no one but Clary in the room.
Soon after the events at the club, Jocelyn is kidnapped while Clary is away from the apartment. When Clary returns to the apartment she is attacked by a demon. She manages to kill it, but it poisons her in the process. Jace shows up and tells her he will take her to a safe place where she will get well. When Clary awakens three days later she is finally filled in on the mystery of Jace and his two friends, Isabelle and Alec.
Jace, Isabelle, and Alec are all members of a secret order called Shadowhunters. Their job is to kill demons, using supernatural powers that were granted to all Shadowhunters through drinking the blood of the angel Raziel. The cup used in the original ceremony that created the Shadowhunters is called the Mortal Cup, and it is now missing. Clary learns that a man named Valentine—who is revealed to be a former Shadowhunter—is the one who kidnapped Jocelyn, thinking Clary's mother knew the location of the Mortal Cup. Valentine wants to use the cup to create his own order of Shadowhunters, dedicated as much to killing what they call Downworlders (vampires, werewolves, fae, and warlocks) as they were to killing demons. The Clave, the governing body of the Shadowhunter order, is in the midst of negotiating a treaty with the Downworlders.
The small group of Shadowhunters begins to search for the Mortal Cup and for Clary's mother. A series of adventures follows, during which Clary and Jace are increasingly attracted to each other as Simon watches jealously from the sidelines. The love triangle this sets up persists throughout the book.
While the book does contain some aspects of morality, i.e. the fight between good and evil, there are some things it treats casually of which parents may wish to be cautious. One of the main characters, Alec, is revealed very early on to be homosexual, and this becomes one of the book's recurring plot points. Jace often displays a questionable code of morals, as do several of the other characters. Angels and demons are portrayed as being creatures subject to being summoned with magic by humans. Jace's opinion of God is that if He exists, it makes no difference. Cursing is infrequent, but consists of taking the names of God and Jesus in vain. Premarital sex is talked about as being natural and normal, though nothing of that nature actually happens in the book.
From a purely literary standpoint, the book was at times difficult to read. It is full of the clichés one expects to see in something aimed at young adults, and Clary is very often annoying because she constantly puts herself and others in danger by doing stupid and reckless things. In part because of this, the feelings Jace develops for her seem to have developed unrealistically.
City of Bones is a typical science fiction novel—full of monsters and action. In large part due to the subject matter, the tone of the book is very dark. It also deals with issues that some parents may prefer not to be present in the books they allow their children to read, such as homosexuality. In addition, there is a lack of reverence for God.
If you decide to allow your child to read this book, I would strongly encourage you to read the book first and be prepared to answer any questions your child may have according to the Bible.
Scriptures taken from The Holy Bible, New International Version®. NIV®. Copyright © 1973, 1978, 1984 by Biblica, Inc.™ Used by permission of Zondervan. All rights reserved worldwide. (www.zondervan.com). The "NIV" and "New International Version" are trademarks registered in the United States Patent and Trademark Office by Biblica, Inc.™ All rights reserved.
---
Jill Barnhart is a homemaker who was transplanted from Colorado to California almost 11 years ago, but whose heart is still in the Rockies. She has been an avid reader since early childhood, when she used to memorize books to "read" to her parents. She enjoys many different genres of literature, but science fiction and fantasy are her favorites.
---
---
comments powered by