Dolphin Tale 2 Movie Review
by Catiana Nak Kheiyn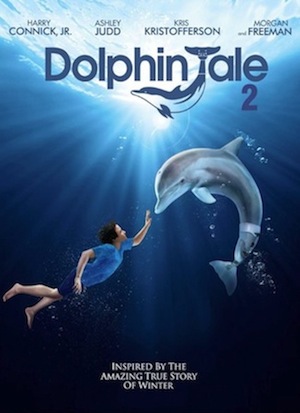 My daughter saw the first Dolphin Tale movie at a friend's house a few years ago, and she absolutely adored it. The film tells the true story of Winter, a dolphin who was discovered caught in a crab trap, then rescued by the Clearwater Marine Aquarium. Her injuries cost her the fins of her tail, causing her to move unnaturally in order to swim. These movements would endanger her life, so a unique prosthetic tail was fashioned to assist in her recovery. It's a heartwarming animal survival story with all the accoutrements of a family-friendly movie.
As soon as my daughter heard there would be a sequel to Dolphin Tale, she vowed that she would go as soon as it hit the theaters. She kept watching the movie listings and waiting, having set aside money to buy tickets for herself and one other person. Dolphin Tale 2 opened September 12, 2014, and it only took a month for us to find a day that would work for us to go see it.
Just as with the first movie, Dolphin Tale 2 is a touching animal drama wrapped in a storyline that is safe for all ages. The overarching theme of the film is "when one door closes, another opens," which is a phrase often referred to in Christendom as well (though it isn't actually in the Bible). It's really a tale of not losing hope when it seems like all your options have been eliminated.
Dolphin Tale 2 opens with the Clearwater Marine Aquarium getting in big trouble when Winter's companion bottlenose dolphin, Panama, dies of old age. Leaving Winter alone in her pool would be a violation of animal welfare laws that require aquariums to keep dolphins in pairs. Winter becomes "depressed," which concerns everyone at CMA, especially Sawyer, the now 14-year old boy who has become famous for his rescue of and work with the injured dolphin.
Earlier in the story, Sawyer is offered a scholarship to join a select number of high school seniors on a prestigious semester at sea program. But choosing this path would require him to leave Winter and CMA for three months. He's torn between what he "should do" and what his heart is telling him to do.
Given only 30 days to find Winter a companion and for Sawyer to make a decision about the scholarship, the clock is ticking for both of them.
In Dolphin Tale 2, the adult, children, and animal characters must all face the various challenges of seemingly limited prospects before them. There are a few instances of intense drama, but nothing that should disturb most children ages eight and up. A few times, animals or people seem to be in danger, but no one gets seriously hurt. There is a vague, implied romantic tension between Sawyer, a girl volunteer, and Sawyer's friend Hazel, though nothing really develops and friendship wins out.
Ultimately, Dolphin Tale 2 teaches us that life is too precious to limit ourselves to merely what we see before us. At one point, Sawyer's friend Dr. McCarthy gives him an antique watch that has been sitting in his garage for years. When Sawyer winds the watch, it starts, but then stops again. He discovers that he has to hit the timepiece periodically to get it going again. Dr. McCarthy's life metaphor is that every once in a while we need to be shaken up just so we remember why we exist. He quips that "there are too many opportunities in this world to spend your life in a box."
Dolphin Tale 2 is a great, fun, family-friendly movie for any parents and kids who enjoy animal films. My daughter is already planning on buying it as soon as it comes out on DVD. It's definitely a good one to have in the collection!
---
Catiana Nak Kheiyn is the webmaster and editor of 412teens.org and regularly teaches other young writers through tutoring and workshops. When she is not writing or hanging out with teens, she loves spending time with her family—a mountain man, two adorable children, and three socially awkward cats. She approaches parenting as an everyday adventure, albeit an often bewildering one, as the little ones in her life are in a constant state of flux.
---
---
comments powered by