Curing the Gimmes
by Rebekah Largent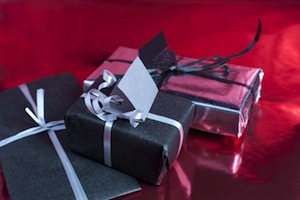 Ahhh, the holidays. The time of year we both love and hate on behalf of our kids. It can be a memorable time full of family, lights, carols, sledding, and hot chocolate by the fire. But it can also be a time when our kids turn into little gimme monsters.
Because of our human nature, it's natural to want more than we have. And in our current culture, all of us feel we have the right to receive what we want. After all, we have Christmas commercials, magazine ads, and store banners telling us how much we "deserve" a brand new car or spa day or designer purse. The message is so ingrained that we might not even realize we've bought into it.
This is certainly no exception for kids. Most of us remember the years when we'd sit down and write a letter to Santa, begging him to bring a shiny new bike or camera or roller skates. Or we'd write a long, detailed list for our parents, telling them what we must have this year. And wasn't it fun? Dreaming about opening the things we really wanted on Christmas morning was part of the holiday magic.
Sadly, our culture has moved from wishes and hopes to an attitude of entitlement. And this feeling can give our kids a serious case of the gimmes. Even though my husband and I don't buy our two-year-old daughter toys too often (she has plenty from Grandpas and Grandmas!), I overheard her sitting with a toy catalog the other day, pointing to the various pictures: "I wan' dat. I wan' dat. I wan' dat." Where did that come from?
As parents, it's our job to build into our kids the concepts and practice of gratefulness, contentment with what we have, and compassion for those around us—and Christmastime is a perfect teaching opportunity. (Just don't neglect the rest of the year!)
Here are some ideas to help cure the Christmas gimmes and open your kids' eyes to world around them. Not to mention that you'll create some fun memories! Just remember: It's important to do these things together as a family. Your kids need to see you, as the parents, modeling a genuine spirit of thankfulness, kindness, and worship.
• Serve the poor and homeless. There are a lot of opportunities to do this during the holidays. You can serve at a local soup kitchen or shelter, donate coats or other winter items, or even stock the pantry of a low-income family.

• Help elderly folks in your neighborhood or church. Grab warm clothes and shovels and clear their driveways after a snowstorm.

• Make a plate of Christmas cookies for your neighbors with a Christmas-themed Bible verse attached. (Matthew 1:23 and Luke 2:11 are good ones.) Mix them up together, bake them together, and deliver them together.

• Participate in Operation Christmas Child. Samaritan's Purse has a great program that can serve as a tangible way for your kids to reach children in need across the globe. Allow your children to take the lead, choosing which gifts to add to the box.

• Do a twist on the Advent calendar. Instead of putting candy or gifts in the calendar's pockets or doors, use slips of paper on which family members have written something they're thankful for. Each day, the family can read the slip together and then say a prayer to thank God for what's written there.

• Keep the birth of Jesus Christ as your main focus throughout the season. An Advent wreath or a Jesse tree are great ways to do that. A quick search online will give you ideas and instructions.

• Cultivate a spirit of giving by donating toys and clothes to a shelter, struggling single-parent family, toy drive, or women's refuge. Help your children choose items that are in good shape. (This activity works best if there's a bit of sacrifice involved!)

• Buy a gift for a family that lives elsewhere in the world. World Vision has a catalog in which you can choose from very affordable gifts of goats, chickens, water purification systems, clothing, school supplies, and more. These are gifts that will really make an impact for a third world family year round.
Hebrews 13:16 says, "Do not neglect to do good and to share what you have, for such sacrifices are pleasing to God." The important thing here is to help your children take the focus off themselves and put it onto others. Help them discover the delight in being generous and bringing joy to someone else (2 Corinthians 9:7). Getting presents is nice, yes, but giving them, well, that's even better!
---
Rebekah Largent is a mom, a wife, and a writer/editor. After many years in the children's curriculum industry, she switched over to Internet ministry at Got Questions Ministries as a writer and editor. In addition to editing and writing articles for GotQuestions.org, she also manages the GQKidz.org website.

Photo from ChristmasStockImages.com.
---
---
comments powered by