Teaching Kids Thankfulness
by Catiana Nak Kheiyn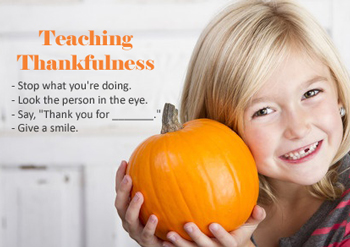 "Rejoice always, pray without ceasing, give thanks in all circumstances; for this is the will of God in Christ Jesus for you."
-1 Thessalonians 5:16-18

Our kids know a world of instant gratification, where every possible need and most of their wants can be met within moments. Yet that moment is often gone so fast that they forget to be thankful for what they've received. It's easy to snap a quick "say 'thank you'!" to our children when they forget and leave it at that. I find myself reminding my kids to do the polite thing more often than not. But does a prompted "thank you" teach a child anything about true gratitude?

True gratitude is closely linked to kindness. Yes, it is the state of being thankful, but it is also an eagerness to show appreciation and a readiness to return kindness. This is where I've missed the mark in my keenness for my kids to appear polite. Saying "thank you" may put on an air of courtesy, however it bypasses the need for reciprocation of a thoughtful action.

Words are merely words. A prompted "thank you" becomes a checkbox on a task list—checked off and forgotten. But what can we, as parents, do to attach "giving back" to those words? How do we train our kids to link feelings of gratitude with actions of returned kindness?

I'm not saying that we should ask our kids to write thank you notes for every little thing. As much as I would love to say I make a list of gift-givers at Christmas and birthdays, then have my kids write thank you notes for each and every one, I am not one of those moms. Thank you notes are great though; they allow kids to dwell a little longer on feelings of gratitude and provide a way for them to give back a gift in the form of a card. If you're one of those moms, more power to ya, sister! Sadly, I'm entirely too impatient to keep up with such things. (And so are my kids.)

What I try to encourage in my children is a little more short-term and focuses more on making that "thank you" more meaningful than spat-out words. Maybe these actions don't make the gratitude lesson stick as much as sitting down and writing notes, but it's at least a start. When someone does a kindness for one of my kids, this is what we try to do:

1. Stop what you're doing.
2. Look the person in the eye.
3. Say, "Thank you for _______."
4. Give a smile (or hug if appropriate).

Yes, this is more like training to say "thank you" with respect and extending kindness physically (through a smile and/or hug). After all, we don't always have time for writing notes, nor is it always necessary. If a stranger picks up that book you dropped, you don't write a thank you note. But you don't just grab it and run off with your head down either.

Learning to say "thank you" kindly gives kids a chance to connect with the giver and express their gratitude in a more personal way. It's easy to spit out "thanks!" then go about your business. Yet taking a moment to make eye contact, speak thoughtfully, and change your face to show joyful gratitude will help both express thankfulness and extend kindness.


---
Catiana Nak Kheiyn is the webmaster and editor of 412teens.org and regularly teaches other young writers through tutoring and workshops. When she is not writing or hanging out with teens, she loves spending time with her two kids, five socially awkward cats, and her amazing friend-amily that gets together every Saturday for various shenanigans. She approaches parenting as an everyday adventure, albeit an often bewildering one, as the little ones in her life are in a constant state of flux.
---
---
comments powered by