An Attitude of Gratitude
by Gwen Sellers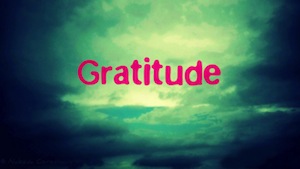 Have you ever noticed how your child imitates you? Perhaps it's been in a sweet way like when my nephew would stick up his arms and ask "Hold you?"; or maybe in a revealing way like when I was a child and would tell the imaginary person on the other end of my plastic kitchen phone, "I appreciate the opportunity but I have to say no"; or maybe it's been downright embarrassing like when your child repeats something in the middle of the grocery store or to the babysitter that was meant for family only. How often does your child's imaginary play involve things you do on a daily basis?
Kids not only imitate what they hear and see, but also the attitudes we convey. This isn't news. Parenting resources and psychologists have been talking for years about the importance of caregiver attitudes in the development of young children. So the question is, how can we adopt positive character traits—or life attitudes—and demonstrate them in such a way that our children imitate them?
There are numerous character traits we could talk about, but I would like to address the issue of gratitude.
We live in an entitled and discontented culture. Advertisements entice us to more or better because "we deserve it." The news reminds us of the horrors of the world and how often things go wrong. Magazines and Pinterest give us the urge to perform "better." Problem-solving is prevalent in the marketplace and in our discussions about relationships.
There's not necessarily anything wrong with these. Who wouldn't want a Pinterest-worthy lunch or a magazine-organized office? We do have relational problems that need solving. And sometimes even advertisements speak to good things. But in the midst of all these messages it's easy to forget to be thankful. We can get so wrapped up in wanting to improve our lives that we don't pause to express gratitude for all the things that are working and all the things we do have.
Did you know that gratitude can help with depression? Focusing on gratefulness forces our eyes off our discouragement and reminds us we can have hope. Biblical examples of gratefulness are not lacking (for instance, 1 Chronicles 16; 2 Chronicles 20:20–23; Psalm 30; 136; 1 Corinthians 1:4–9; Ephesians 1; 1 Thessalonians 1). First Thessalonians 5:18 says, "give thanks in all circumstances; for this is God's will for you in Christ Jesus." Philippians 4:4–7 instructs, "Rejoice in the Lord always. I will say it again: Rejoice! Let your gentleness be evident to all. The Lord is near. Do not be anxious about anything, but in everything, by prayer and petition, with thanksgiving, present your requests to God. And the peace of God, which transcends all understanding, will guard your hearts and your minds in Christ Jesus." Clearly, gratitude is important in the life of a believer.
So how do we foster an attitude of gratitude in ourselves and our kids? Philippians 4:8 seems to have a good answer: "Finally, brothers, whatever is true, whatever is noble, whatever is right, whatever is pure, whatever is lovely, whatever is admirable--if anything is excellent or praiseworthy—think about such things." Seek to be intentional about what you think on and what you express. Rather than focusing on the lack, focus on things you do have.
Some practical suggestions:
- Make a point of saying thank you to God in your mealtime prayers.
- Pause in the moment and thank God when you or your child is having a particularly good day or you see something that evokes joy.
- Thank your spouse for things he or she has done both in private and in front of your children.
- Thank your child for things he or she has done.
- Ask each family member to share one thing they are grateful for about the day at dinner or before bed.
- Keep a notebook of things for which you are grateful. Consider keeping a family notebook of these things as well.
- Write thank you notes for gifts you receive and teach your children to do the same.
- Say thank you to the grocery store clerk or others you interact with during the day.
When you put these into practice and make them habits, you'll be surprised at the change you'll see in your attitude!
---
Gwen Sellers is an Associate Editor for Got Questions Ministries, currently working with CompellingTruth.org. She has a bachelor's degree in English and is working toward a master's degree in counseling. Her passion is to fully embrace the abundant life she has been given in Christ and help other believers do the same. Her blogs are glimpses into God's lessons in her personal life. Gwen's prayer is that as you read her blogs, God will reveal His truth, His love, and His abundant grace for you.

Photo by Nakeva Corothers. www.flickr.com. Creative Commons license.
---
---
comments powered by