Boys Will Be Boys
by Gina Cook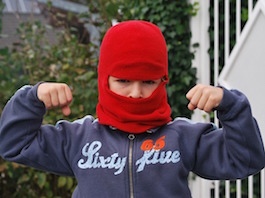 Parenting my five boys has raised many questions for me so far. And most of these questions came when around other mothers of boys.
Perhaps you can relate. You are at one of those wonderful mommy-counseling sessions ... err, I mean … play groups. With coffee cup in hand you have one eye and ear on the mother in front of you and the other eye and ear on the chaos building as her two sons are battling it out over a destroyed Lego tower. You try with all of your might to ignore it as easily as she seems to. She continues to talk without pause and you try to listen, but the whole time you are really just waiting for her to correct her boys, to stop the yelling, the kicking, to acknowledge at all that a WWF match is taking place two feet away from her. It's probably because she could tell you weren't really listening to whatever she was saying anyway that she stops mid-sentence and throws out, with a grin and a wink, "Boys will be boys, right?"
Instances like this have happened more than I can count, and they usually left me scratching my head, questioning whether or not I'm missing something. I just don't like screaming, punching, kicking, or wrestling for pain's sake; nor do I agree with throwing items in anger or name-calling. I just don't like it and my sons know it and are taught to avoid this behavior. I've had discussions with other parents who truly believe that a boy just needs to be a boy and do the wild things of his heart as long as no one is seriously injured. These discussions have left me asking myself, "What wild things do my sons need to do? Must they settle an issue with at least one wrestling match a day? Is there a true need for boys to tackle situations in life—literally?"
I wanted an answer to these questions. So I looked in the Bible. Surely God has given us parents something on boys being boys and how we parents are to deal with those boys being boys! Even though I didn't find the exact phrase "boys will be boys" in the Scriptures I did find these: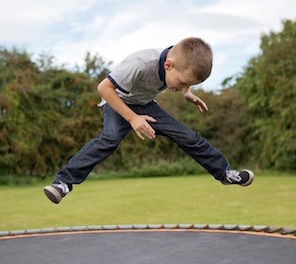 "Even a child is known by his actions, by whether his conduct is pure and right" (Proverbs 20:11).
" … A child left to himself disgraces his mother" (Proverbs 29:15).
"Folly is bound up in the heart of a child, but the rod of discipline will drive it far from him" (Proverbs 22:15).
These three verses alone make it clear to me that boys (and girls) can do what is pure and right, but not unless the child receives godly correction from his parents. Children behave like children, meaning they behave foolishly, until they are corrected. That makes sense. Yet that still leaves the question of "What behaviors need correcting?"
I would answer that question with more questions. "What is sinful and what can lead to sin? How should Christians act, according to God's Word?"
According to the Word of God we are to "train a child in the way he should go, and when he is old he will not turn from it" (Proverbs 22:6). God wants those boys trained so they don't grow up to be childish men. Would God want His church solving their problems by tackling one another to the floor or sticking out their chest and competing with one another in an arm wrestling match? I haven't found that in the Bible yet. What I see is how Christians should behave in Galatians 5:22–23 (fruits of the Spirit). I also see how they sometimes choose to behave until they are brought to their senses, like in Luke 22:24–27 (when grown men of God argue about which one of them is greatest). Even more so, I see how God is so graciously patient!
I will have this boy thing figured out ... probably never. I just know I want my boys to be examples of Christ, of selfless love. I want my boys more concerned about winning souls for Christ than winning games, fights, and trophies. God says "This is the message you heard from the beginning: We should love one another" 1 John 3:11. I want my boys to love. I want them to live in a way that brings God glory. I see the noble men in the Bible, risking their lives only for the cause of Christ, braving the sea of haters in order to reach them with the gospel. Whatever they did as men, whether it was fishing, killing lions with their bare hands, taking on giants, or spreading the good news of Jesus, they were only commended for those things in which God was glorified.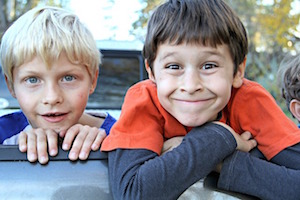 I appreciate the rugged and brawny flair my boys bring to our family. I want to encourage their boyish charm and rustic dreams. I love watching my boys wrestle with another for fun and affection—as long as they stay clear of "Momma's pretties."
Perhaps other Christian parents may disagree with my husband and me on the extent to which boys should be allowed to be "boys." One thing is for sure, though—the Bible is clear that God wants them to grow up to be God-fearing, gospel-sharing, Christ-like men … and the training for that begins with the parents. With that said, I think we can all agree that boys will be boys, until they are taught and encouraged to be much more.
Scriptures taken from The Holy Bible, New International Version®. NIV®. Copyright © 1973, 1978, 1984 by Biblica, Inc.™ Used by permission of Zondervan. All rights reserved worldwide. (www.zondervan.com). The "NIV" and "New International Version" are trademarks registered in the United States Patent and Trademark Office by Biblica, Inc.™ All rights reserved.
---
Gina and her husband live in central Kansas with their five sons and one resilient daughter. Aside from enjoying life as a homeschooling mom, Gina also enjoys her precious quiet times, writing children's books and volunteering as a writer for Got Questions Ministries.
---
---
comments powered by