Making Wise Media Choices
by Pam A.
"Don't copy the behavior and customs of this world, but let God transform you into a new person by changing the way you think. Then you will learn to know God's will for you, which is good and pleasing and perfect" (Romans 12:2 NLT).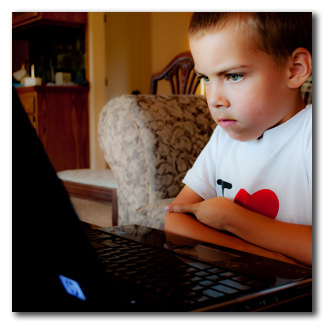 We live in a media-driven culture. And because we are what we think, it's important for us as Christian parents to help our children analyze information critically with a Christian worldview in mind. Here are some helpful tips to guide your children in making good media choices.
1. Use God's Word as the standard.
We often make media-related decisions based on what other people around us do or don't do. This is especially true of kids! But we can teach our kids how to think biblically rather than socially by helping them to make decisions based on what God's Word specifically says about those choices. When faced with a media choice, search Scripture for verses that support or deny that choice. An example of a helpful verse might be: "Finally, brothers, whatever is true, whatever is noble, whatever is right, whatever is pure, whatever is lovely, whatever is admirable—if anything is excellent or praiseworthy—think about such things" (Philippians 4:8).
2. Spark creativity by setting limits on media.
"You say, 'I am allowed to do anything' but not everything is good for you. You say, 'I am allowed to do anything'—but not everything is beneficial" (1 Corinthians 10:23 NLT).
It's a great temptation as busy parents to allow the media to babysit our children. But a constant diet of even neutral media-based information can influence our kids in how they think. My husband and I were not always popular with our kids when we set media limits—but our limits challenged them to figure out creative ways to entertain themselves. Sometimes those creative thoughts meant putting aside our own agenda! When my kids were growing up, there were several occasions when I helped them prepare a lemonade/cookie stand sale. This meant baking cookies together and taking a trip or two to the store to buy lemonade. Sometimes it was difficult for me to set aside my own daily plans in order to satisfy the activity desires of my kids. But it was time well spent since it supported "outside-the-box" thinking and also made some special memories.
3. Use media intentionally as a tool to teach biblical principles and to develop critical thinking skills.
When our children were young, we were perhaps a bit too strict in what we allowed them to watch, play, or read. In hindsight, we realize we could have used some of those television shows, movies, video games, and books to help our children think critically and apply a Christian worldview to the media. Although it's good to set some non-negotiable limits, you can also strike a godly balance when you read or view a variety of media together and then analyze it through critical-thinking questions and the application of biblical principles. You can ask your kids questions like: How are the characters similar/different? What are the characters' weaknesses/strengths? Do the characters model Christlikeness? What are some bad/good choices the characters made? How can we use the characters' experiences in our own lives?
4. Be a good example.
We can't expect our kids to be what we are not. They follow our example, so if we desire for them to become more like Christ, we need to be willing to grow closer to Him ourselves. Children are very in tune to messages we send, both negative and positive. If we're not discerning in what we do, view, and read, they won't be discerning either.
In addition to the book and movie reviews you can find here on GQKidz, there are also many other Christian-based movie review sites available. Here are just a few to help you along the way:
www.christiananswers.net/spotlight/
www.crosswalk.com/culture/movies/
Scriptures taken from The Holy Bible, New International Version®. NIV®. Copyright © 1973, 1978, 1984 by Biblica, Inc.™ Used by permission of Zondervan. All rights reserved worldwide. (www.zondervan.com). The "NIV" and "New International Version" are trademarks registered in the United States Patent and Trademark Office by Biblica, Inc.™ All rights reserved.
---
Pam A. is a mother of four and the grandmother of three. She has extensive media background as a former assistant children's librarian and a Christian school library media specialist.

Photo by Carissa Rogers.
---
---
comments powered by