Learning to Love My Preschooler
by Marilyn McClintock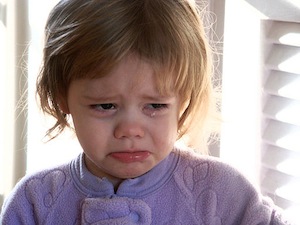 We were a military family living in England. My children were two and one years old when we arrived there. I was what you might call a "learner" in parenting. My own mother was very strict and disciplined in anger. My dad was a good man, but absent most of the time. I had no idea how to deal with the little things my two-year-old daughter did, like irritate her little brother or generally just be ornery. I found myself yelling at her often, as I didn't think her naughty little things warranted a more severe punishment. I sometimes felt like I didn't "like" her.
One day, after I had put the kids down for a nap, I overheard our duplex-neighbors talking through the wall that connected our dining rooms. I was horrified, as it suddenly dawned on me that they could hear me yelling at Sherri throughout the day. How embarrassing is that!? I had received Christ as my Savior when I was 12, and wanted to be a good parent, but I simply didn't know how. I hadn't made any friends yet that I could talk to about it. So I decided to pray.
Shortly before going to England, I had rededicated my life to the Lord after having become very wayward at the age of 14 when my mom died. I had lived on the wrong side of respectability as a believer for years, and the Lord had been very gracious in bringing me back to Himself shortly after our second child was born. Now I wanted to please Him, and desperately needed His guidance in raising our children. Each day at nap time, I read the Word and began to ask God to give me patience. After several weeks with no change, I got more desperate, and tearfully begged God to give me patience. But what I "heard" in His still small voice was, "Do you want Me to take your children away?" I sat there in silence pondering what that meant. Then it dawned on me that He was using my children as a means to teach me patience!
Days went by. Now I was getting scared, because I still wasn't any more patient. More prayer ... "Lord, show me what to do!"
His answer astounded me! What I heard this time was, "Marilyn, the problem with Sherri is you." I was stunned. "Lord, how can that be? She's the one who does so many irritating things. I just react to her!" His answer was the same, "The problem with Sherri is you."
"Lord, what am I doing wrong?"
"You don't love her."
"What?! Of course I love her! She's my child. I wanted her. I even asked for a girl, and you gave me my desire."
"But you don't love her. She doesn't feel loved."
I sat there for a while thinking how that was possible, and wondered what I might be doing that was communicating love to her. Not much, besides reading stories to her.
"Lord, You are going to have to teach me to love. I don't think I even know what love is." I thought back to my childhood. No hugs. No kisses. No compliments. My older sister was prettier, more talented, smarter, and did routine jobs better than I did. "Lord, teach me to love." And so He began ...
I enrolled in two correspondence courses from Moody Bible Institute on parenting and family life. That helped immensely. I also asked the Lord daily for wisdom on how I could show Sherri a love that she would feel, and my attitude toward her began to change. Smiles. Hugs. Kisses. Quality time. Compliments—genuine and deserved. Best of all, I started having a nightly Bible-story time with her. I was so thrilled how her behavior was changing. Within several months we were like best friends. I was much more happy and relaxed as my positive attitude became contagious. She became a very God-conscious little girl, and received Christ as her Savior back in the States at the age of five during our evening Bible story time.
I couldn't thank God enough for what He had done for us. Yes, His words had been hard for me to hear, but so very needed. And learning to love my preschooler was only the first time I sought Him with a question regarding parenting! He always amazed me with His wisdom for my immediate need. He is the Potter. We are the clay. Why wouldn't God, our Creator, be able to teach us how to parent best?
P.S. Sherri has been a pastor's wife for 30 years. They have four adult children, two grandchildren—and one on the way. I am so proud of her ... Thank You, Lord!
---
Marilyn feels that writing for GotQuestions.org has been a great privilege as she seeks to help others find God's answers to their questions. Through many difficult trials of her own God has taught her that He is her Wonderful Counselor, and nothing is impossible with Him. Her passion for the past 50 years has been evangelism and discipleship of children and ladies through church ministries and Child Evangelism Fellowship. Marilyn's family gives her great joy along with lots of prayer opportunities for the needs of her husband, 4 married children, 17 grandchildren, and 9 great-grandchildren.

Photo by Crimfants www.flicker.com CC-BY-SA-2.0, via Wikimedia Commons
---
---
comments powered by