The Essay Train
by Kersley Fitzgerald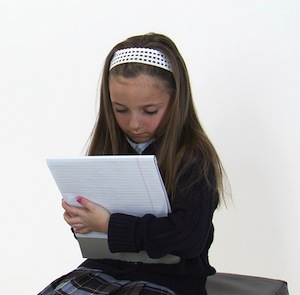 During the school year my son, JT, was assigned an extended essay about the crises and challenges experienced by the people of three countries. First of all, I have to say the instructions his teacher gave were brilliant. She had the kids choose two sources for each country and write the citation information of each source on a notecard with an assigned number. Then each factoid (six for each country) was written on another notecard with the source ID number. So, we ended up with 27 cards—3 for the citations, and six for each of the three countries.
But now we needed to write the essay. Because of his dyslexia, JT is so easily overwhelmed that he can't even read the instructions without melting down. He remembers some of what his teacher said in class, but we know from experience that he doesn't catch it all—and often what he does remember is missing vital information. So if I were to say to him, "Write an introductory paragraph, then two paragraphs on each country, then a summary paragraph ..." Yeah. That wasn't going to work.
For some reason, I came up with the idea of a train. I even drew it on a piece of paper and labeled the parts. The engine was the introductory paragraph. There were three cars, one for each country, and the caboose for the summary.
It really worked. By looking at the train, he was able to tell where he was in the essay. The links between cars served as the transition sentences (which he had never understood before). We didn't even write it in order—we wrote about the countries first, then went back to do the intro, then the summary. In fact, he couldn't even remember the term "introductory paragraph"; he called it the engine.
The notecards were great, too. He was able to sort them into "facts about the country" and "challenges the country faces," then put them in the order he wanted for each paragraph.
Amazingly, it only took us a couple of hours to write the thing. Halfway through he even said, "Mom, if you and Dad do this with me a couple more times, I think I can do it on my own!" To which I replied, "You'd better, 'cus I'm not going to college with you." The next night we did the summary page, which he caught onto pretty easily, and he typed everything up. He turned it in four days early for 20 extra points. I'm still in awe.

Click here to download and print your own Essay Train!
---
Kersley Fitzgerald is a former Air Force officer, former Air Force wife, and current editor of Got Questions' blog site, Blogos.org. She and her husband adopted JT from Thailand when he was 18 months old. He has spent the ensuing years teaching her more about God than any theology course could.
---
---
comments powered by