Hope for the Future
by Mike Brunstetter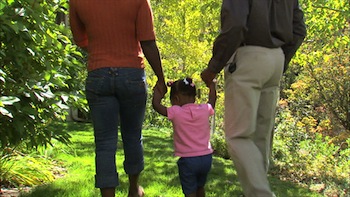 I am a fairly new dad (my son is 3 and my daughter is 3 months), but I often think about what kind of future my children will have. Of course, like most parents, I want the very best for them. I want them to be intelligent, kind, compassionate, socially well-adjusted, among other things. I often imagine what they will be like: what kind of grade-schoolers will they be, what kind of teenagers will they be, what type of adult will they grow up to be. But I know I have many years to wait until I see any of that come to fruition. All of that aside, the ultimate thing I hope for the future of my children is that they come to know the gospel and, as a result, repent and put their trust in Jesus Christ.
As parents, we are instructed by Scripture to "Train a child in the way he should go, and when he is old he will not turn from it" (Proverbs 22:6) and to "bring them up in the training and instruction of the Lord" (Ephesians 6:4). As a Christian parent, I take this very seriously. Along with providing the basic essentials of life, this is the most important thing I can do for them. In the passage from Ephesians, the apostle Paul was most likely referring to the instructions given to the Israelites in Deuteronomy 6:6–7: "These commandments that I give you today are to be upon your hearts. Impress them on your children. Talk about them when you sit at home and when you walk along the road, when you lie down and when you get up" (emphasis added). This gives me the sense that the Word of God should saturate our homes; it should infiltrate all we do and say. It should have an effect on every interaction with our children. So how am I doing with all of that? Sadly, I fail more often than I succeed.
It should be noted that the Deuteronomy 6 passage makes reference to "these commandments," which initially would have referred to the Ten Commandments (and by extension the entire Law of Moses or any commandment from God). But is that our primary goal as parents, to have our kids obey the commandments? While obedience is important, obedience alone is merely moralism and not the true gospel. Al Mohler, in his article entitled "Moralism is Not the Gospel (But Many Christians Think It Is)", defines moralism this way: "… the basic structure of moralism comes down to this—the belief that the Gospel can be reduced to improvements in behavior." As Christian parents we want our children's behavior to improve, but the motivation, for them and for us, must be connected to the gospel or else we will end up with moralism; which, according to Mohler, is "one of the most seductive false gospels."
I am not advocating that we do not strive to teach our children to obey. It seems Mohler would concur when he says, "… parents rightly teach their children to obey moral instruction." But he cautions us with this added warning: "But these impulses [to teach our children to obey moral instruction], right and necessary as they are, are not the Gospel." So then, the only logical, right, and God-honoring way to raise our children is to teach them to obey in light of, or because of the gospel.
When I say gospel, I mean the good news about the life, death, and resurrection of Jesus Christ. Of course, in order to appreciate the "good news," one must understand the bad news. The bad news is that we have all sinned (Romans 6:23) and our sin separates us from a right relationship with an infinitely holy God. I think we as parents can begin by communicating to our children that they are indeed sinners and need salvation from God. When they disobey, they are sinning against God (and against Mom and Dad too, who God has placed in a position of authority over the children). Then the parents must also begin to model a gospel-centered lifestyle. Mom and Dad are sinners too, and need God's forgiveness. So, with that in mind, when we mess up (and we will mess up!), it's okay to admit that before our children (age-appropriately, of course) and model repentance for them. Jesus gave us this pattern in the Great Commission in Matthew 28:19–20. First, "make disciples" (followers of Jesus), then teach "them to obey." Obedience must be tied to a true knowledge of the gospel—otherwise, it is just moralism for the sake of moralism … or to attain God's or parent's approval.
If you are like me, you hope many things for the future of your children. But as Christian parents, above all, we want our children to be with us in eternity. Thanks be to God that it is not up to us to save our own kids; instead, it is up to the Holy Spirit's work in their hearts. But we are left with clear guidance of how to raise them in a godly manner. We will mess up many times, but through that we have an opportunity to model and teach our children the gospel. It's every Christian parent's hope and prayer that their children will ultimately come to saving knowledge of our Lord Jesus Christ.
---
Mike Brunstetter is a social studies, Bible, and religions teacher at the Denver Street School—a school that ministers to at-risk, inner-city youth. He believes his ultimate responsibility, however, is to be a better husband and father to his wife and two children, something he is continually learning how to do. Mike also enjoys reading and writing about Christian apologetics.

Quotations from Albert Mohler's blog post titled "Moralism Is Not the Gospel (But Many Christians Think It Is)." Used by permission. www.albertmohler.com
---
---
comments powered by