Taking Back October 31st
by Catiana Nak Kheiyn | Originally published on blogos.org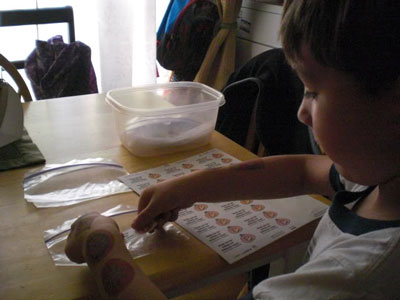 For several years, our church held a Harvest Party, which was basically a safe place for kids to go trick-or-treating. The original idea was to use the party as an outreach to friends and neighbors of the church family to attract people who normally wouldn't step foot inside a church.
Unfortunately, it didn't serve that purpose at all. Even though it was fun, the event made little to no impact on people in the community. So our church launched a new plan: Halloween Meet & Treat. The idea behind this was to meet your neighbors and show them God's love on the one day of the year that our neighbors go to each other's doors. My family is not comfortable going up to our neighbors' houses to introduce ourselves on a normal day, but Halloween gives us a reason to ring the bell.
We rarely get kids at our house, so our mission was to show God's love to the trick-or-treaters we encountered while walking the streets on Halloween night. The year our church started Meet & Treat was the first time my kids went out on Halloween, and did we ever set the bar high! The plan was to give out handfuls of candy to fellow costumed kids, but Jewel suggested something even better: "How about we give candy to the people who answer the door?" Brilliant!
Thus began the new family tradition of putting together little bags with two cookies, two pieces of candy, and a sticker that said, "Thanks for making our Halloween sweet! Love, the Princess & Superman."
Every year, both kids get so excited about seeing the surprised reactions they get by handing these bewildered people goody bags at their doors and saying, "We treat back!" We also give bags to kids and parents we meet on the sidewalk. Reactions are always of great fun and amusement. Some people have even remembered us from previous years!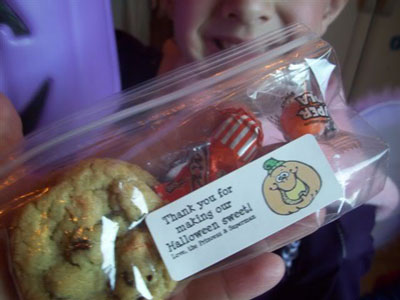 First Corinthians 13:5-7 says, "[Love] does not dishonor others, it is not self-seeking, it is not easily angered, it keeps no record of wrongs. Love does not delight in evil but rejoices with the truth. It always protects, always trusts, always hopes, always perseveres." Our hope in showing God's love to the ones we encounter on Halloween is that the Holy Spirit will endure even on a day of evil; that during a holiday of want-want-gimme-gimme, someone would be surprised that a child would give back willingly. Even though it is a night that often celebrates wickedness, we strive to be a light walking through the darkness—a candle of hope among the shadows of the enemy.
At the end of every Halloween night, while sitting at the kitchen table with hot apple cider and donuts, my kids say that "treating back" is their favorite part of going trick-or-treating—even more so than getting candy for themselves. Have they learned a lesson here about what Halloween should really be for? How about these lessons:
"Love your neighbor as yourself." (Matthew 22:39)
"Whoever despises his neighbor is a sinner, but blessed is he who is generous to the poor." (Proverbs 14:21)
"Put on then, as God's chosen ones, holy and beloved, compassionate hearts, kindness, humility, meekness, and patience ..." (Colossians 3:12)
---
Catiana Nak Kheiyn is the webmaster and editor of 412teens.org and regularly teaches other young writers through tutoring and workshops. When she is not writing or hanging out with teens, she loves spending time with her family—a mountain man, two adorable children, and three socially awkward cats. She approaches parenting as an everyday adventure, albeit an often bewildering one, as the little ones in her life are in a constant state of flux.
---
---
comments powered by