A Sad Christmas: When Christmas Isn't Happy
by Sarah V.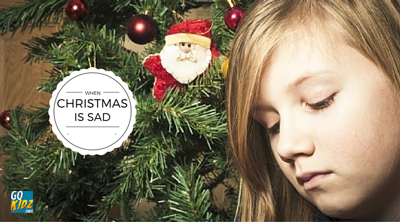 When most of us think of the Christmas season, we have joyful thoughts and happy feelings: food, family, friends, and faith. Decorations adorn the inside and outside of our homes. Presents lay beneath our Christmas trees. But the truth is, Christmas isn't always a happy time for everyone, and some years are much harder than others.

Nearly 12 Christmases ago, my first husband left my son and me. I had recently discovered my husband was having an affair, and that it was one of many. Our Christmas, which was supposed to be filled with love and family, instead was blanketed in rejection and loneliness. Christmas was not happy that year. Seven years later, my grandpa whom I loved dearly, died on December 23. We were supposed to gather together as an extended family a week later to celebrate the holiday, instead we gathered together and went to a funeral. Christmas was not happy that year either.

Sometimes really bad things happen close to Christmas time. Families fight. Loved ones die or leave. People become terminally ill. The first Christmas without someone you love can be especially difficult. Even if trouble doesn't visit us in December, Christmas has a way of highlighting all that isn't right because it is the one day we want life to be perfect.

Unfortunately, life isn't perfect. Children can be especially sensitive to difficult situations around the holidays. Is it possible to feel joy and love during Christmas when your life seems to be absent of them? Yes, because that is the message of Christmas.

When God sent Jesus to earth, life didn't miraculously get easier. Problems didn't instantly disappear. The Jewish people had been waiting for the promised Messiah for thousands of years. He was the One who was supposed to defeat Satan and make the world right again! When He finally came, He arrived as a baby born humbly in a barn. Yes, there was a great celebration. Angles sang in the heavens. A star shone brightly announcing the Savior's birth. Shepherds ran to worship the newborn King. But He didn't come wielding a sword ready to do battle and defeat all evil instantaneously. Problems in the world persisted. However, Jesus did come with the promise that someday He will make the world perfect again. Evil will be defeated. Peace, love, and joy will reign. When Jesus came the first time, He paid the price for our sins and restored us to God. Yet his work is not done, He is coming back again and will defeat evil once and for all.

The pain that we have now is only temporary. It isn't forever. Jesus gives us hope. He has the victory. We can be joyful and glad because though evil may visit our lives and pain may reside with us temporarily, it is not permanent. For those who love Jesus, we know that we will see our fellow believers again in heaven. We know that we are loved and valuable even when others reject us. We know that while poverty and sickness may visit our homes, we are rich in spirit and our souls can never be snatched out of our Father's hands. Our hope is in Christ. We can celebrate God's perfect power, His faithful promises, and His victory when we celebrate the birth of Christ. Our pain and hurt are temporary, but our salvation and joy are eternal. We can remind our children when Christmas isn't happy, that Christ's promises and victory will always prevail.

"Nehemiah was the governor. Ezra was a priest and the teacher of the Law. They spoke up. So did the Levites who were teaching the people. All these men said to the people, 'This day is set apart to honor the LORD your God. So don't weep. Don't be sad.' All the people had been weeping as they listened to the words of the Law. Nehemiah said, 'Go and enjoy some good food and sweet drinks. Send some of it to people who don't have any. This day is holy to our Lord. So don't be sad. The joy of the LORD makes you strong'" (Nehemiah 8:9-10).

On days that we set aside to celebrate Jesus, let us focus on Him and all that He has done for us. Our hope is in Him. Our joy comes from Him. He has the victory and He is coming again. He will never leave us or forsake us. He is our God and He deserves all glory and praise. Because of Jesus, we can find joy in Christmas in spite of our circumstances.


---
Sarah and her husband have six children under the age of 12, 2 dogs, and way too much laundry! When they aren't busy with school, sports, and church, Sarah enjoys exploring northern Michigan and camping with her family.
---
---
comments powered by