Holiday Stress?
Tips for De-stressing the Holiday Season by Sarah V.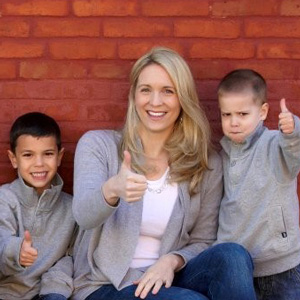 Here we go again. The holidays are supposed to be filled with love, thankfulness, joy, family, and fun. Unfortunately, this isn't always the case. Before we started new traditions in our home, weekends filled up fast. There was always something to do—cookies to bake, presents to buy, gifts to wrap, places to go, cards to write, on and on and on.
Our family was constantly short on time, short on money, and short on patience. So a few years ago, we made a decision to turn our focus from celebrating the holidays to celebrating Jesus Christ and love. I wasn't completely sure how to do it. And honestly, it is still a work in progress, but here are three things we do to make the holiday season more enjoyable in our home.

1. All presents are bought and wrapped before November.
Yes, I know this probably classifies us as weird. However after years of battling crowds at the mall, scraping together money to buy just the right present, and very late nights wrapping presents (usually on Christmas Eve), I decided I'd much rather spend the time walking leisurely through the mall with my children admiring the decorations or driving through neighborhoods to check out Christmas lights. Instead of getting frustrated, tired, and feeling poor during November and December, we have plenty of time to decorate cookies, play games, read books, and make memories. An added bonus: my children don't beg me for presents anymore because they know I already purchased them! I know it is already December, but purchase those gifts as soon as possible. It will simplify your life.

2. The kiddos write letters instead of buying presents.
Okay, I have to admit with 6 children this idea partially stemmed out of financial need, but it accomplishes two purposes at the same time. First it saves money, but more importantly it emphasizes why we give gifts—love. When we started this tradition, I purchased leather covered three ring binders, page protectors, and a variety of different styled Christmas paper. (An investment of about $15 per child.) Then on the computer, I printed out a template for each letter. I included the year at the top and lines for each child to write.

Every letter begins with "I love _______ because ___________." During the months of November and December the children write meaningful letters to Mom, Dad, and their siblings. The littlest children dictate to me why they love someone and I write it down word for word. I don't embellish one bit. The only rule is you must be honest and kind.

As I was looking through some of the past letters, I came across Susie's letter to Daddy from 2010. She was 2 years old. I asked her why she loved Daddy. She said, "I love Daddy because: 'No, I love you Mommy.'" Even today we laugh right out loud when we read it. What a funny and cute childhood memory! My husband and I also write letters to each of our children recalling fond memories from the year, highlighting their strengths, and encouraging them.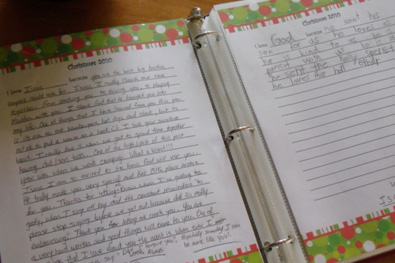 I keep the binders together on a bookshelf so that the children can look at them whenever they want. As they grow older and move on into adulthood their present grows as well. I can't think of a better gift to give than a binder full of love letters and memories!

3. Each child also writes a letter to God about why they love Him.
This has been a joy for us to read as parents. It is really neat to see how a child's faith grows from year to year, and it is a good reminder to all of us to be thankful for God's gifts—especially His Son, Jesus Christ.

We may not buy the fanciest toys or purchase the most popular presents, but we really love each other and enjoy the holidays by making as many memories as possible.


---
Sarah and her husband have six children under the age of 12, 2 dogs, and way too much laundry! When they aren't busy with school, sports, and church, Sarah enjoys exploring northern Michigan and camping with her family.
---
---
comments powered by