The History of GQKidz.org
by S. Michael Houdmann and Rebekah Largent
S. Michael (Founder and CEO of Got Questions Ministries):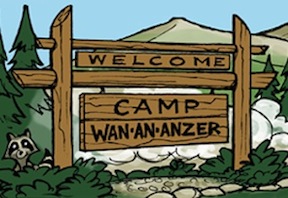 In late 2007, God convinced us that it was time to do something about a fact we always knew to be true: kids have questions too! In fact, sometimes it seems like kids have more questions than adults. Kids have different questions, simpler questions (usually!), and often funnier questions. These questions need to be answered. The style and tone of the answers need to be different than the ones on GotQuestions.org, but one thing should not change: the answers still need to be based on God's Word!
So, GQkidz.org was launched in August of 2008. Our goal: to answer questions biblically and in such a way that children can understand. Whether it is a child actually using the website, or whether it is a parent/adult searching for how to answer a question a child has asked, GQkidz.org seeks to be there with a simple and biblical answer.
We decided to go with the theme of a Christian kids summer camp for two reasons. (1) Summer camp is something a lot of kids can relate to. (2) My wife grew up at a Christian summer camp and was excited about the idea. So, Camp Wanananzer (want an answer) was born.
Rebekah (Associate Editor in charge of GQKidz.org):
When I came to GotQuestions Ministries, I was tasked with a big job: to update the GQKidz.org website and make it even more fun for today's kids. Although it had only been 5 years since the site was launched, Got Questions Ministries knew that kids and the way they're reached is constantly changing.
The update took quite a few months. Although we had all the questions and answers to repurpose from the old site, we needed a new layout, more activities, and new artwork. We worked with a talented artist and Web designer to completely revamp the site—and kids have responded! The GQKidz Club offers fun games, comics, contents, crafts, and recipes, which spark kids' interest and get them looking around on the site. Parents like GQKidz not only because it gives their kids an option for clean, safe entertainment, but it also gets them thinking about God and asking their own questions!
The latest addition to GQKidz.org is the section created specifically for parents (click here to check it out). We discovered that a lot of parents use GQKidz as a reference to answer their kids' questions themselves, and so we decided to provide even more tools to help parents lead and teach their kids.
There's definitely more in store for GQKidz.org. We're excited to see where God takes us! If you have any ideas for the site you'd like to share, just post a comment below. We'd love to hear from you!
---
S. Michael Houdmann is the Founder and CEO of Got Questions Ministries. His passion is to use the internet to proclaim the Gospel and teach the truths of God's Word. His primary responsibilities for the ministry are Web development, writing, and administration. Outside of the ministry, he enjoys playing sports, watching movies, and chillin' with his dog Wagner. He and his wife MeLissa have been happily married for 16 years.

Rebekah Largent is a mom, a wife, and a writer/editor. After many years in the children's curriculum industry, she switched over to Internet ministry at Got Questions Ministries as a writer and editor. In addition to editing and writing articles for GotQuestions.org, she also manages the GQKidz.org website.
---
---
comments powered by